My Weirder School 12-Book Box Set: Books 1-12 (Paperback)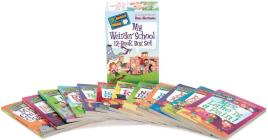 This book is currently unavailable for us to order.
Out of Stock at Warehouse - may become available in the future
Description
---
Twelve hilarious chapter books in one great box! With more than 10 million books sold, bestselling author Dan Gutman's My Weird School series really gets kids reading.
Things have gotten weirder! From a zookeeper who keeps snakes in her pocket to a history teacher who has built a time machine, A.J. and the gang from Ella Mentry School have had some weird and wacky adventures. Now, for the first time, all twelve books in the bestselling My Weirder School series are together in one box:
#1: Miss Child Has Gone Wild!
#2: Mr. Harrison Is Embarrassin'!
#3: Mrs. Lilly Is Silly!
#4: Mr. Burke Is Berserk!
#5: Ms. Beard Is Weird!
#6: Mayor Hubble Is in Trouble!
#7: Miss Kraft Is Daft!
#8: Dr. Nicholas Is Ridiculous!
#9: Ms. Sue Has No Clue!
#10: Mr. Jack Is a Maniac!
#11: Miss Klute Is a Hoot!
#12: Mrs. Lane Is a Pain!
Perfect for reluctant readers and word lovers alike, Dan Gutman's hugely popular My Weird School series has something for everyone. Don't miss the hilarious adventures of A.J. and the gang.
About the Author
---
Dan Gutman is the New York Times bestselling author of the Genius Files series; the Baseball Card Adventure series, which has sold more than 1.5 million copies around the world; and the My Weird School series, which has sold more than 12 million copies. Thanks to his many fans who voted in their classrooms, Dan has received nineteen state book awards and ninety-two state book award nominations. He lives in New York City with his wife, Nina. You can visit him online at www.dangutman.com.
Jim Paillot lives in Arizona (another weird place) with his weird wife and two weird children. Isn't that weird? You can visit him on his weird website at www.jimpaillot.com