The Peculiar Pig (Hardcover)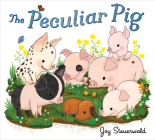 Description
---
* "An excellent, gently told addition to anti-bullying, adoption, and individuality storytimes."--Kirkus Reviews, starred review

There was a different sort of piglet in the pigpen one cool spring morning.

That "different" one is named Penny, and she's really not a piglet at all . . . she's a puppy. A puppy who gets longer and longer as her piglet siblings get bigger and bigger. Penny doesn't understand why she's different--she only knows that Mama Pig loves her just the same as the rest of the litter. Penny's siblings are baffled by her peculiar behavior--like digging with her paws instead of her snout, and especially her loud, sharp oink. Good thing Penny likes all the sounds she can make, and when danger strikes and her peculiarities prove to be strengths, the piglets see that sometimes it's good to be a little different!
About the Author
---
Joy Steuerwald also illustrated the board book Moo (by Jaye Garnett), and works as an artist and animator. She is a graduate of San Jose State University's Illustration and Animation program. Her muses are a miniature short-haired Dachshund and a small human boy. She lives in Fremont, California.
Praise For…
---
* "Steuerwald's debut as both author and illustrator is an excellent, gently told addition to anti-bullying, adoption, and individuality storytimes. The adorable piglets (and dachshund pup) . . . are expressive and distinct, with a look that strikes the right balance between cartoon and realism. The bullying never rises beyond giggles at Penny's differences, making this a good conversation starter even for the youngest audiences. Look forward to more from Steuerwald; Penny the puppy piglet is perfection."—Kirkus Reviews, starred review

"Kids will enjoy recognizing Penny as a dog, either by visual clues or through her loud, peculiar oink: 'Arff woof WOOF!!' Steuerwald creates a series of pleasing illustrations. . . . An amiable read-aloud choice for young children."—Booklist 

"Young listeners will delight in pointing out that one of her piglets is, in fact, a puppy. They will join the other piglets in pointing out its peculiar habit of barking and digging with its paws instead of its snout. . . . The adorable pink and black piglets and cartoon illustrations of farm life are the perfect setting for discussing adoption and being different with the very young. A fun read-aloud with a sweet and positive message."—School Library Journal

"Steuerwald's hand-drawn and digitally colored illustrations are playful and lighthearted yet still convey the confusion and hurt Penny feels when she is ostracized by her siblings. The joy their acceptance brings Penny is evident in the final spread when she is surrounded by the piglets as they attempt to emulate Penny's barks. . . . This sunny barnyard story with love and acceptance at its heart is pitchperfect for younger audiences and provides a gentle lead-in for conversations about inclusion."—The Horn Book