There Goes A Mermaid!: A NorFolktale (Paperback)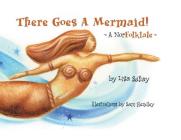 This book is currently unavailable for us to order.
Backordered - Temporarily out of stock, but will become available to order soon
Please note: This book is final sale and ineligible for return.
Description
---
Hundreds of mermaid sculptures decorate the landscape of the City of Norfolk, Virginia. Author Lisa Suhay reveals the secrets to these magical creatures and tells how to spot the real live mermaids among us - and more.