Mom's Family Wall Calendar 2024: This Year, Mom is Going to Keep Track of Stuff! (Calendar)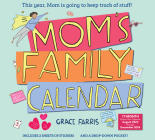 Description
---
Mom's secret weapon: a calendar that keeps the whole family organized.
JUST FOR BUSY FAMILIES– With a five-column grid that tracks who goes where, when for every family member. It's a wall calendar that works like a planner!
LOTS OF ROOM – Spacious grids have plenty of space for writing in soccer practices, doctors' appointments, school picture days, and remote meetings, plus reminders, notes, and random but essential thoughts.
PLUS STICKERS! – Two sheets of stickers mark important occasions like GAME DAY, DOCTOR'S APPOINTMENT, and CAMP and let you personalize your calendar creatively. The kids love marking their events, too!
DROP-DOWN STORAGE POCKET – Keep all those and papers in one easy place!
GREAT QUALITY – Printed in full color on responsibly sourced paper.
THE PERFECT GIFT – Humor and warmth from artist Grace Farris, and the promise of staying organized all year long.
About the Author
---
Grace Farris is a mom, doctor, and illustrator. Her work has appeared in the New York Times, Vogue, BuzzFeed, and Cup of Jo. She lives in Austin, Texas, with her family. You can find her on Instagram @coupdegracefarris.