Shoshi's Shabbat (Hardcover)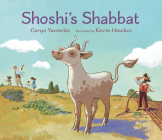 Description
---
The virtues of taking a break—and of being thankful—are extolled in the gentle story of a stubborn ox, an impatient farmer, and a day of rest.

Long ago, in the hills near Jerusalem, lived a young ox. For six days each week, she and her owner would toil in the fields, and on the seventh day both would rest. Then it came to be that this young ox was sold. For six days, she toiled in her new owner's fields, and on the seventh day the farmer brought out the yoke and plow, expecting to spend another day hard at work. But Shoshi the ox had a different idea. In a warm, friendly narrative and vivid, humorous art, author Caryn Yacowitz and illustrator Kevin Hawkes bring to life a tale drawn from the ancient Jewish stories known as the Midrash, a story as relevant today as it was long ago. It's a tale of encountering other cultures and learning from them, of paying attention to the world around you—sun, breeze, animals, people—and above all, of learning to slow down and take a break.
About the Author
---
Caryn Yacowitz is a playwright, speaker, and the author of several picture books, including Baby Moses in a Basket, illustrated by Julie Downing. She lives in California.

Kevin Hawkes is the illustrator of many books for children, including the best-selling Library Lion by Michelle Knudsen and The Hanukkah Magic of Nate Gadol by Arthur A. Levine. Kevin Hawkes lives with his family in southern Maine.
Praise For…
---
The author employs simple, accessible language that roots the story in time and place, with believable, sympathetic characters. Hawkes' detailed acrylic depictions of Shoshi's and the brown-skinned humans' facial and body expressions are humorous and thoroughly delightful. . . . A lovely evocation of Shabbat traditions.
—Kirkus Reviews

The pleasures and importance of taking a break are sagely relayed in this picture book, set "long ago on a farm near Jerusalem.". . . This warmly delivered message of making time for rest, reflection, and relationships is pertinent and heartening for all.
—Booklist

Based on Torah commentary, this pensive picture book is a welcome reminder of the importance of pausing to practice gratitude.
—Publishers Weekly

Based on a traditional Jewish tale, this story celebrates the value of taking a break, connecting with nature, and honoring religious observances.
—School Library Journal