Angels and Archangels: A Magician's Guide (CD-Audio)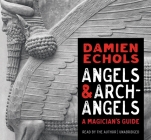 $29.99
Email or call for price
Description
---
Call on the power of angels to shape your life and accelerate your spiritual practice.

"Angels do not belong to any one single religion, system, or dogma," teaches Damien Echols. "They are almost pure energy—the very substance the cosmos is made of. They're also incredibly willing to work with us if asked." With the unabridged audio of Angels and Archangels, this bestselling author presents an essential resource for understanding what angels are, how they make themselves available, and magickal practices to invoke their power to transform your life.

An Essential Resource for Every Magickal Library

For the magician—or anyone seeking to enlist helping forces on the path of awakening—invoking angels and archangels gives you access to incredible potential for manifestation, healing, and spiritual growth. In this lucid and information-packed guide, Damien shares his unique understanding and experience of magickal practices refined in the crucible of his wrongful death row imprisonment. Here you'll discover:

• The importance of angels and archangels in the world's mystical traditions
• The angels associated with each of the elements, the zodiac signs, the Tree of Life, and every card of the tarot
• How to call on angels for blessing, protection, invocation, and more
• Advanced angel magick rituals, including the Rose Cross, the Celestial Lotus, and the Shem Operation
• The Holy Guardian Angel—the key for moving beyond ego consciousness


As we work with the intelligences we call angels, we gradually align our will with the universal will, moving in greater harmony with the source of all creation and assisting in the spiritual evolution of all humanity.
The ultimate goal of working with angels is to become one ourselves.
That's what people actually are—unconscious angels.
—Damien Echols
About the Author
---
DAMIEN ECHOLS was born in 1974 and grew up in Mississippi, Tennessee, Maryland, Oregon, Texas, Louisiana, and Arkansas. When he was 18, Damien and two other young men were wrongfully convicted of murder, eventually becoming known as the West Memphis Three. Having received a death sentence, Damien spent almost two decades on death row, until he was released in 2011. While in prison, Damien was ordained into the Rinzai Zen Buddhist tradition. He is the subject of Paradise Lost, a three-part documentary series produced by HBO, and West of Memphis, a documentary produced by Peter Jackson and Fran Walsh. Damien is also the author of the New York Times bestseller Life After Death and Yours For Eternity (with his wife Lorri Davis).

Damien teaches classes on magick around the country and works as a visual artist. His artwork entails glyphs, sigils, and symbols designed to bypass the conscious mind and speak directly to the subconscious, combining magick techniques with his own alphabet and writing system to break down concepts and scenarios into abstract designs. He and Lorri live in New York City with their three cats.

For more, visit damienechols.com.