Sasha & the City of Whispers (Paperback)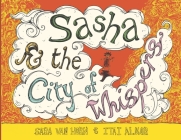 $13.99

Not on our shelves now, usually available for pick-up or shipping in 2-14 days
Description
---
Sasha & the City of Whispers is a 32-page paperback picture book for children ages 4-8. It tells the story of a fearless young girl whose penchant for art transforms the world she lives in. With fierce determination, Sasha ventures further than any have before to bring color to her monochromatic and overworked city
Sasha is an endearingly stubborn and unstoppably imaginative young artist. She's a fierce, female role model, whose dedication and curiosity will inspire young readers to believe in themselves, pursue their creativity and steward a healthier world.
Sasha's story is cast in the context of human-caused climate change and the pains of a capitalist world. The desert she lives in is filled with towering piles of trash from a previous society (could it be ours?), and the people working in the factories don't have time for hugs or games or questions, only work, work, work.
This ecological inflection is present enough to facilitate big conversations between children and grownups about waste, consumption and the planet but subtle enough to not overwhelm any audience. This is a story of hope Readers will learn that everybody has the power to imagine and create the world they need no matter their size or the loudness of their nay-sayers.