Emily Jiang & April Chu Book Party ~ May 3
Event date:
Saturday, May 3, 2014 - 3:00pm to 5:00pm
Book Party with Emily Jiang & April Chu
Saturday, May 3, 3:00-5:00
Our California Bookstore Day celebration continues with a party on top of a party!
Hicklebee's is honored to introduce author Emily Jiang and illustrator April Chu, two fabulous debut talents, to our book-loving friends. Together they have created Summoning the Phoenix: Poems & Prose About Chinese Musical Instruments.
Along with a book talk and signing with Emily & April, there'll be demonstrations with Chinese instruments, refreshments, and activiites based on their book. Be prepared to learn a Chinese folksong.
Emily Jiang is the American-born daughter of Chinese American immigrants, and she has been writing poems and stories since she was five years old. She holds an MFA in Creative Writing from Saint Mary's College of California and a BA in English from Rice University. Emily is also a musician and composer. She delights in painting with words and with sounds. 
April Chu began her career as an architect, but then decided to return to her true passion of illustrating and storytelling. She remembers coming home from school every day, spending hours drawing whimsical characters in her notebook, and creating outlandish stories while watching cartoons, and she hasn't stopped drawing and creating stories since.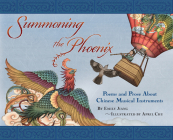 $19.95
Email or call for price
ISBN: 9781885008503
Published: Shen's Books - March 17th, 2014
Every musician knows that learning to play an instrument has its challenges and its rewards. There's the embarrassing first day of rehearsal, but also the joy of making friends in the orchestra. There's dealing with slippery concert dress, or simply getting swept up in the music. The twelve children in this book are just like any other musicians practicing their instruments and preparing for a concert. But what sets these music lovers apart is that they all play traditional Chinese musical instruments in a Chinese orchestra.

Including both flights of fancy and practical considerations, lively poems capture each child's musical experience with a different Chinese instrument, while sidebars provide more information about each one. Vivid illustrations depicting each fascinating instrument bring you along on this musical journey. And then you are invited to the grand finale!

Ages 6 & up
---