Joan Schoettler: Ruth Asawa: A Sculpting Life
Event date:
Wednesday, March 6, 2019 - 3:30pm to 5:00pm
Teacher and children's book author Joan Schoettler is coming to Hicklebees! And she's bringing along her book Ruth Asawa: A Sculpting Life.
In this extraordinary picture book, author Schoettler imparts the life of a remarkable woman, teacher, and artist. From the Japanese-American internment camps to the creation of the San Francisco School of the Arts, Ruth Asawa's life journey is one filled with injustice, learning, and expression.
Author Joan Schoettler grew up in the San Francisco Bay Area. She earned a MA in reading and language arts from Fresno Pacific University, and is a member of Society for Children's Book Writers & Illustrators (SCBWI) and the American Library Association. Come and meet this extraordinary author!

$16.99
ISBN: 9781455623976
Availability: On Our Shelves Now
Published: Pel - August 30th, 2018
From the Japanese-American internment camps to the creation of the San Francisco School of the Arts, Ruth Asawa's life journey is one filled with injustice, learning, and expression. Known as the "Fountain Lady" of San Francisco due to the many fountains she designed, Asawa experimented with unconventional mediums, using lines, space, and wire to create dimensional sculptures. The thorough research of illustrator Traci Van Wagoner is vividly apparent in the dynamic depictions of Asawa and her life that are sure to fascinate and inspire young readers.

Ages 8+
---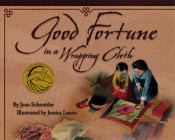 $17.95
ISBN: 9781885008404
Availability: Not on our shelves now, usually available for pick-up or shipping in 1-10 days
Published: Shens Books - May 31st, 2011
Ji-su's mother has been chosen by the Korean king to be a seamstress at the palace and sew bojagi, or wrapping cloths, for the royal household. It is a great honor, but to Ji-su it means saying good-bye to her mother. The only way for them to be reunited, Ji-su realizes, is for her to be chosen to serve the king too.

Ages 5+
---