Kathryn Otoshi
Event date:
Thursday, October 12, 2017 - 4:00pm to 5:00pm
Kathryn Otoshi, October 12 @ 4:00
Kathryn Otoshi will be stopping by Hicklebee's to sign books and chat with fans after a day wow-ing school children. Her 2008 book One wow-ed us enough to name it Hicklebee's Book of the Year. Ever since we know to be on the look-out for anything she publishes.
Her newest book, Draw the Line will not disappoint. Draw the Line is a powerful picture book about forgiveness. When two boys draw their own lines and realize they can connect them together―magic happens! But a misstep causes their lines to get crossed. Push! Pull! Tug! Yank! Soon their line unravels into an angry tug-of-war. With a growing rift between them, will the boys ever find a way to come together again? Acclaimed author/illustrator Kathryn Otoshi uses black and white illustrations with thoughtful splashes of color to create a powerful, multi-layered statement about friendship, boundaries, and healing after conflict.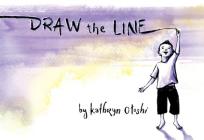 $17.99
ISBN: 9781626725638
Availability: On Our Shelves Now
Published: Roaring Brook Press - October 10th, 2017
"Otoshi's fluid watercolors are sheer loveliness, surpassed only by her ability to communicate big concepts with no words. A simple, beautiful concept whose reach grows with each rereading." —Kirkus Reviews, starred review

"Powerful." —Booklist

"Otoshi suggests that if those in conflict stay open to the possibilities, resolution can be found in unexpected places." —Publishers Weekly

Ages 3 & up
---