Worth the Candle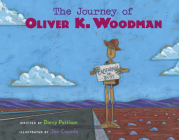 $8.99
Email or call for price
ISBN: 9780152061180
Published: Clarion Books - May 1st, 2009
We can't think of any book in which people smile as often and as widely as they do in The Journey of Oliver K. Woodman. The first smiler is a little girl in California, Tameka, who writes to her favorite uncle in South Carolina. She asks him to come visit, but he can't- he must work all summer installing cabinets.

But Uncle Ray, another character with a great smile, really knows how to soften a blow. Instead of just writing Tameka to decline her invitation, he builds an articulated wooden mannequin. The figure, dubbed Oliver K. Woodman, wears a hat and backpack and carries a "California or Bust" sign. Ray's letter of instruction in that backpack asks travelers give Oliver a ride as far as they are going. In this way Oliver will be able to reach California as Ray's surrogate. His progress on the journey will be reported in postcards that the ride-sharing travelers send to Ray.

Letters from a variety of drivers (and Cepeda's bright illustrations) let readers travel with Oliver. Strong and silent, Mr. O.K. Woodman is fine traveling companion who never needs to find a bathroom at an inconvenient time and can endure hours on the road as an unfailingly polite listener. He casts a long shadow, too, which comes in handy one night at a family campout.

Epistolary stories (those told just in letters and other documents) are a double-dip of reading pleasure: the story itself and the puzzle-solving nature of reading a tale without a straight narrative. Readers' imaginations bloom where no specific information is planted. In the case of Oliver's travels, author Pattison introduces his drivers for many legs of the trip, but never tells us specifically how he got from Panhandle, Texas, to the middle of the desert near Albuquerque. Maybe the mouse building a nest in his backpack could tell us, but that postcard will have to be created in a young reader's mind. Meanwhile, readers can share the joy that Oliver inspires. Everywhere he goes, people smile-and, in the case of his Fourth of July ride shared with Miss Utah during a parade, they smile so much that cheeks begin to ache. Lucky for Oliver that he doesn't actually have a mouth-and that all his expressiveness is a reflection of humankind's vast whimsy.
---