Virtual School Visits: Christine Evans
Please find below books available for the virtual Christine Evans school visit. At the end of your checkout, in the comment section, please include your school name and if you would like a personalization, to be sent to you at a later date.
Christine Evans is a British expat who lives in Northern California with her husband and two young daughters. Her work has appeared in Highlights, High Five, and Hello magazines. For more, visit pinwheelsandstories.com.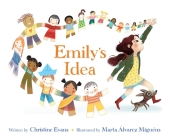 $17.99
Email or call for price
ISBN: 9781683644163
Published: Sounds True - March 10th, 2020
How a simple creative act spreads a message of love and acceptance around the world?

Emily's idea started small. Many beautiful ideas do.
She folded, doodled, and snipped.
But also, like many ideas, Emily's small idea grew.

When a little girl decides to create a paper chain of dolls, her idea catches on. Then it spreads far and wide as children around the world begin to create and share their own. This is the story of how that girl makes it happen.

For readers ages 4 to 8.
Includes a make-your-own page to help you get started on your own paper doll chains.
---

$17.99

ISBN: 9781943147663
Availability: Not on our shelves now, usually available for pick-up or shipping in 2-14 days
Published: Innovation Press - September 24th, 2019
Back in 1881, when Evelyn Cheesman was born, English girls were expected to be clean and dressed in frilly dresses. But Evelyn crawled in dirt and collected glow worms in jars. When girls grew up they were expected to marry and look after children. But Evelyn took charge of the London Zoo insect house, filling it with crawling and fluttering specimens and breathing life back into the dusty exhibits. In the early 1920s, women were expected to stay home, but Evelyn embarked on eight solo expeditions to distant islands. She collected over 70,000 insect specimens, discovered new species, had tangles with sticky spider webs, and tumbled from a cliff. Inspire children to believe in their dreams and blaze their own trail with the story of Evelyn's amazing life.
---